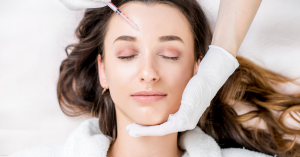 With 2021 finally here, many men and women are looking for ways to start the new year with a fresh face. Injectables like BOTOX® and dermal fillers are an easy, accessible way for my Naples, FL, patients to fight the signs of aging and look like the best version of themselves. 
If skin care and wellness are some of your 2021 goals, injectables can give your plans a boost. Here are a few things to look forward to when considering BOTOX and fillers. 
Put your best face forward.
BOTOX is a wrinkle-fighting injectable that temporarily relaxes overactive facial muscles. When specific muscles are relaxed, they no longer pull on the skin, allowing your face to appear smoother and more youthful. BOTOX can be used in many different areas, such as the eyes, lips, forehead, and more. Regular injections can soften your expressions and help you appear more calm and well-rested—some great qualities to take into 2021.
As a nonsurgical treatment, there is no required downtime after your BOTOX session. You can immediately return to work or home following your treatment session.
Take years off your appearance.
While BOTOX fades wrinkles, dermal fillers are the best option for reviving a sunken, tired look. Options such as JUVÉDERM® plump up cheeks and adds youthful volume across the face. The power of fillers comes from their key active ingredient: hyaluronic acid (HA). HA is a sugar found naturally in the body, where it attracts water and keeps skin hydrated and plump. When it's injected it dermal filler form, it fills in age-related volume loss and hydrates the skin from within, giving you a refreshed glow.
Depending on the location and type of filler used, results can last from 6 months to 2 years. When your skin looks naturally rejuvenated, you can spend less time on makeup or serums and instead feel your best at all times.
Combine injectables for noticeable results
BOTOX and dermal fillers each enhance the face in slightly different ways. However, many patients struggle with wrinkles and sunken skin—and combining treatments may be the best solution. BOTOX can target unwanted lines while fillers reduce dark circles and trigger collagen production. This mix can transform the entire face in a single session and give you results you can enjoy for months to come.
Whether you're in Zoom meetings or on dating apps, injectables help you look your vibrant best. After all, you deserve to start 2021 with a fresh face and a boost of confidence.
By knowing more about your injectable treatment options, you can choose the perfect procedure for your goals. If you're interested in BOTOX or dermal fillers in the Naples, FL, area, request a consultation online or call (239) 262-5662.