Kent V. Hasen, MD: Aesthetic Plastic Surgery & Med Spa of Naples
3699 Airport Pulling Road North
Naples, FL 34105
Phone: (239) 262-5662
Monday: 8:00 a.m. – 6:00 p.m.
Tuesday - Thursday: 9:00 a.m. – 5:00 p.m.
Friday: 8:00 a.m. – 4:00 p.m.

Meet Brandie Gostigian
Board-Certified Physician Assistant
Curiosity guided Brandie's path to becoming a physician assistant and an essential part of Aesthetic Plastic Surgery & Med Spa of Naples.
"I've always had an interest in medicine and particularly in how the body works," says Brandie. "I asked 'why' a lot as a child."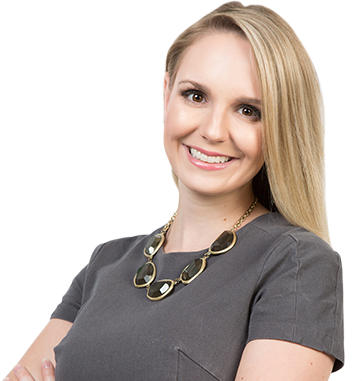 Her inquisitive nature remains intact and today Brandie is not only a board-certified physician assistant, but also a trainer for Galderma, the maker of Restylane® fillers and Dysport®, and an aesthetic specialist with extensive experience and training. Few plastic surgery practices in Naples, Fort Myers, or anywhere in southwest Florida have someone with Brandie's medical background and technical skill performing nonsurgical procedures.
If you're considering a nonsurgical cosmetic procedure such as CoolSculpting® Elite, filler injections, or laser skin resurfacing, request a consultation using the online form or call our office at (239) 262-5662 to schedule an appointment.
"I am so blessed to work in this practice."

"What's not to love about working in a beautiful office with a gifted surgeon and fantastic co-workers while helping patients feel better about themselves?"

– Brandie
Aesthetic Expertise
After graduating from Erskine College in South Carolina with a bachelor's degree in biology, Brandie completed her physician assistant training in Fort Lauderdale at Nova Southeastern University. She earned a master's degree in medical science and graduated with highest honors. She was specifically interested in dermatology and began working for a medical and aesthetic dermatology practice after graduation.
Getting the Best Results
Brandie's dermatology background provides our patients invaluable benefits because she uses her medical training to evaluate what she calls the "aesthetic pathology" and then create a treatment plan that's customized to address the specific concerns with the appropriate procedures.

Besides her academic achievements, Brandie's education includes advanced training for specific aesthetic treatments:
Allergan and Galderma: These 2 companies make virtually all the leading injectables, including BOTOX, Dysport, JUVÉDERM, and Restylane. The training included enhanced facial anatomy instruction, which is a key factor when using cosmetic injectables.
Congratulations Brandie!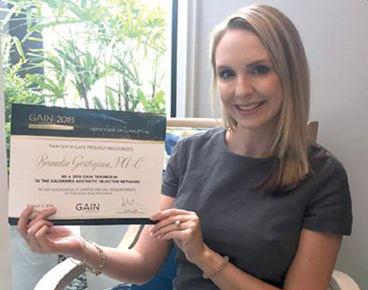 You've GAINed Galderma's credentials as a top injector and trainer.
Congratulations to our Board Certified Physician Assistant, Brandie! Brandie attended Galderma's GAIN Train the Trainer Event. Only a handful of the top injectors in the country are selected to participate in this training where they learn the latest advancements in injectable treatments and technology. Brandie is excited to further her expertise of cosmetic techniques so that she can continue to provide her patients with the highest quality and most advanced aesthetic treatments and procedures.
Ultherapy: Brandie learned to interpret ultrasound readings and customize treatments based on the patient's anatomy and aesthetic goals.
Laser manufacturers: This training involves learning to use precise settings to produce the safest and most effective treatment sessions.
CoolSculpting® Elite: Brandie attended CoolSculpting University, an intensive, 2-day course at CoolSculpting's California headquarters.
In addition, Brandie regularly attends seminars and conferences to learn about the latest advances in aesthetic medicine.
Brandie's impressive training and experience make her our go-to provider for a range of procedures. Those include:
Injectables: BOTOX® Cosmetic, Dysport, Restylane and JUVÉDERM® products, RADIESSE®, KYBELLA®, Sculptra® Aesthetic
Lasers: TotalFX skin resurfacing, hair removal, intense pulsed light (IPL), Cutera® Excel V™
Ultherapy®
CoolSculpting® Elite
Cellfina®
Votiva consultations
You can request a consultation to learn more about any of these procedures or call (239) 262-5662 to schedule an appointment.
In Brandie's Words
What brought you to Dr. Hasen's practice?
While I was practicing medical and aesthetic dermatology, I was fortunate to be awarded diplomate status through the Society of Dermatology Physician Assistants, the highest honor awarded to a PA in the field of dermatological medicine. I thoroughly enjoyed dermatology's medical side, but when I discovered aesthetic medicine, it was a perfect fit. I was extremely impressed when I met Dr. Hasen and quickly knew this would be an ideal practice for me to join.
---
What makes this practice special?
Because Dr. Hasen stays on the cutting edge of technology, I have the opportunity to learn state-of-the-art procedures and use the most advanced products available. That means I'm able to provide patients with results that few other practices can match. Interacting with the patients, though, is the best part of working at Dr. Hasen's practice. I've developed some great relationships with our patients and I'm honored that they trust me to treat their aesthetic concerns. When you consider that there is no way to hide our faces, I take very seriously my responsibility to each and every patient. Working with patients to meet their goals within both their budgets and lifestyles is something I'm passionate about.
---
Which 3 procedures do you most enjoy providing?
First, VOLUMA and Restylane Lyft. Providing cheeks with volume and structure improves other areas of the face, too, such as nasolabial folds and marionette lines. These cheek fillers are also popular with younger patients who want a contoured appearance.
Second is TotalFX laser skin resurfacing. Many patients are initially nervous about getting a resurfacing treatment, but we can greatly minimize the discomfort and the results are excellent. TotalFX softens fine lines, removes brown spots, and treats the sun damage that goes with living in Florida.
Third, I really enjoy using the Cutera Excel V laser to minimize the annoying red veins many people have around the nose, cheeks, and chin. People are surprised we can treat this concern and that there is almost no downtime.
---
What sets your care apart?
The relationships I develop with patients really help me understand their specific concerns and create treatment plans to address them, while at the same time establishing realistic expectations. The mutual trust enables us to have honest conversations. Additionally, as someone who trains other specialists in the use of injectables, I'm able to continue expanding my own knowledge and get the best possible outcomes.
---
What about outside of the office?
I've been married for 6 years and have a dachshund-chihuahua mix. We met when I was studying to become a physician assistant and he was attending Nova for dental school. We love traveling and have set a goal of visiting all of the world's modern wonders. We've already checked off Machu Picchu, the Colosseum, and Chichen Itza—4 more to go!
---
Something we don't know about you that might surprise us?
I organized a fundraiser in high school to collect coloring books and crayons for children living in foster homes. That led to me being one of 100 seniors in the U.S. recognized as a Toyota Community Scholar.