Kent V. Hasen, MD: Aesthetic Plastic Surgery & Med Spa of Naples
3699 Airport Pulling Road North
Naples, FL 34105
Phone: (239) 262-5662
Monday: 8:00 a.m. – 6:00 p.m.
Tuesday - Thursday: 9:00 a.m. – 5:00 p.m.
Friday: 8:00 a.m. – 4:00 p.m.

Ultherapy® Skin Tightening
Ultherapy® Skin Tightening
Loose, sagging skin is a common element of aging, so many people understand how frustrating it can be. But the patients of Kent V. Hasen, M.D., have more options than ever to improve the tone and condition of aging skin — without surgery. One of the most exciting of these options is Ultherapy. Popular among our Naples and Fort Myers, FL patients, Ultherapy is a completely non-invasive technique that uses ultrasound waves to stimulate the skin to build more of its own collagen for a significant improvement to many different areas of your face and neck, all with a single treatment and no downtime.
Need Help Finding the Right Treatment?
When it comes to medical spa treatments, your choices are plentiful…and possibly overwhelming. Our interactive treatment planner can help. Just select the skin condition you want to address, and you'll see a list of possible treatment options. Having beautiful skin has never been so easy.
Plan Your Treatment
To find out how Ultherapy treatments can rejuvenate your skin, we invite you to contact us online or by phone at (239) 262-5662 for more information or to request a consultation.
Featured Case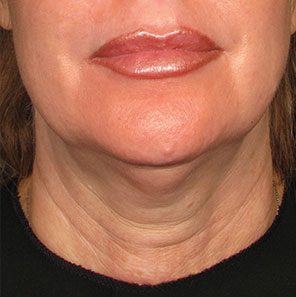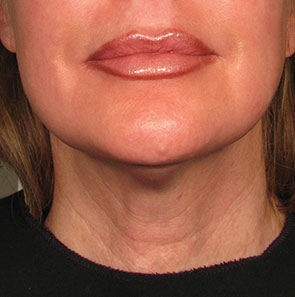 Who Is a Good Candidate?
Ultherapy is cleared by the FDA to improve the appearance of the brow, chin, neck, and décolletage by tightening the skin and smoothing away wrinkles and laxity. Depending on your needs, we can also use Ultherapy to treat other areas of your body, such as your knees or buttocks.
During your consultation, Dr. Hasen or Brandie helps you determine which options are right for you based on your lifestyle and current complaints. Ultherapy is generally best for patients who:
Are not yet ready for cosmetic surgery
Have had cosmetic surgery in the past and wish to prolong its results
Are younger and wish to postpone the aging process
If you're considering Ultherapy, it's important to remember that it's not a replacement for surgical improvement. Therefore, if you have more severe signs of facial aging, you may be better suited for the minimally invasive FaceTite procedure, a facelift, or another type of surgical procedure. Our team can help you choose the right course of treatment based on your goals, skin condition, and lifestyle.
Shop SkinMedica® Online
Purchase your favorite SkinMedica products from the comfort of your home through Brilliant Connections™. Shop Dr. Hasen's online store and choose from a broad selection of medical-grade skincare essentials that will be shipped straight to you.
Shop Now

No surgery.
No downtime.
Learn More
The Procedure
Ultherapy is a completely non-invasive procedure that's performed right here in our office. During your treatment, Dr. Hasen or his physician assistant, Brandie, uses a special handpiece to deliver ultrasound energy to your areas of primary concern. The ultrasound energy quickly goes to work activating your skin's natural regenerative process, stimulating it to produce new collagen. Each patient feels a different degree of mild discomfort, although most people don't require any sort of anesthetic.
Dr. Hasen or Brandie passes the handpiece back and forth over your skin for maximum effectiveness. In total, the procedure usually lasts between 60 and 90 minutes depending which are you have treated.
Meet Brandie
Our one-of-a-kind, board-certified physician assistant combines her medical training with extensive aesthetic training to provide nonsurgical treatments ranging from injectables and laser skin resurfacing to CoolSculpting® and Ultherapy®. Our patients love Brandie!
Get to know Brandie
The Recovery
Immediately following your treatment, you will likely feel well enough to return to your usual activities. Some patients report lingering redness, tingling, and numbness, although these typically go away on their own after a couple of days.
Get our pricing guide with cost details on 20+ of our most popular procedures
Featured Case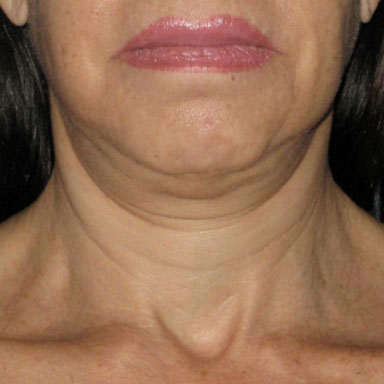 Photos courtesy of Ultherapy®. Your results may vary.
The Result
The results of Ultherapy are not immediate. Instead, they develop over the course of several months while your skin produces more of its own collagen. Over time, new collagen causes the skin to contract and tighten, creating a "lifted" appearance that's smooth and toned.
Are you ready to refine your trouble areas and look as young as you feel? Contact us online or call our office directly at (239) 262-5662 to schedule your appointment today.
A Reputation Built on Results
Our Patients Say It Best
You deserve the highest caliber of service, care, and results, and at Kent V. Hasen, MD, we're committed to providing all that and more. But don't take our word for it—see for yourself what our actual patients have to say about their experiences with us.
Dr. Hasen and his team are absolutely fabulous. Dr. Hasen did an amazing job with my implants a few...
Dr. Hasen and his team are absolutely fabulous. Dr. Hasen did an amazing job with my implants a few...
Dr. Hasen and his team are absolutely fabulous. Dr. Hasen did an amazing job with my implants a few...
Simply the Best! Dr. Hasen and his team are absolutely fabulous. Dr. Hasen did an amazing job with my...