Kent V. Hasen, MD: Aesthetic Plastic Surgery & Med Spa of Naples
3699 Airport Pulling Road North
Naples, FL 34105
Phone: (239) 262-5662
Monday: 8:00 a.m. – 6:00 p.m.
Tuesday - Thursday: 9:00 a.m. – 5:00 p.m.
Friday: 8:00 a.m. – 4:00 p.m.

EMFACE® 
If your face is losing its youthful smoothness and tone, there are safe, effective solutions that don't involve injections or surgery. EMFACE is a nonsurgical facelift alternative that helps people from Naples and Fort Myers, FL, restore a vibrant look without anesthetic, incisions, or downtime. It is just one of the many ways we can help you look as young as you feel at Aesthetic Plastic Surgery & Med Spa of Naples.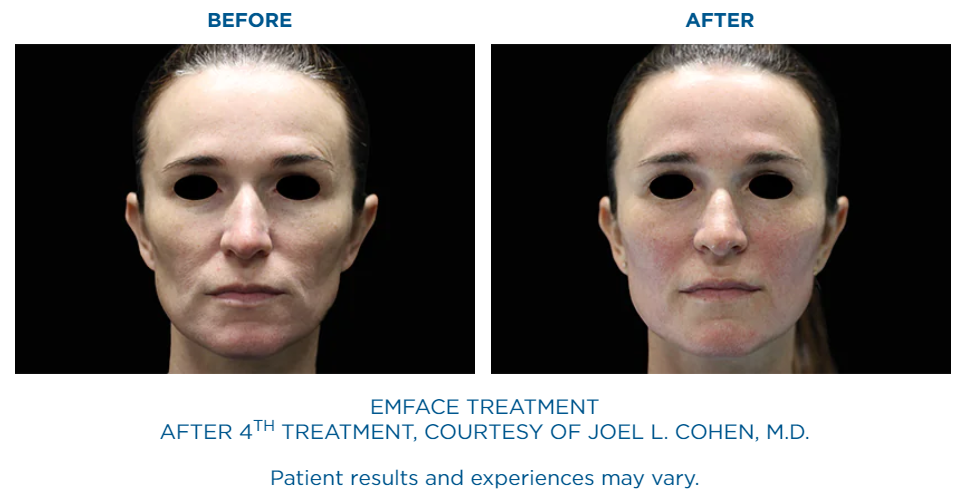 What Is the EMFACE Procedure?
Causes of facial aging include shrinking facial muscles, the loss of collagen in the skin, and years of muscle contractions that etch folds and creases into the skin. EMFACE is a noninvasive, FDA-cleared procedure that lifts and tightens facial tissues and muscles and softens wrinkles on the forehead and cheeks.
How It Works
EMFACE rejuvenates the face using applicators placed on the skin that simultaneously emit radiofrequency (RF) energy and cause rapid muscle contractions. Treatment benefits include:
Skin tightening and smoothing: RF energy increases the production of collagen and elastin fibers within the skin.
Facial toning: High-energy electromagnetic stimulation called HIFES™ technology (similar to EMSCULPT NEO® without the fat burning) causes rapid contractions of the facial muscles for firming and lifting.
EMFACE Candidates
Ideal candidates are people typically in their 40s to 50s who want to correct mild to moderate facial aging in the following areas:
Brows
Cheeks
Corners of the mouth
Jawline
EMFACE can also be used proactively in younger patients to treat the deeper layers of the skin and facial muscles.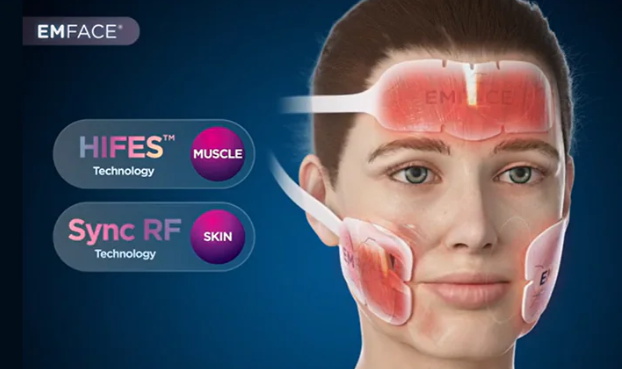 Your Treatment Experience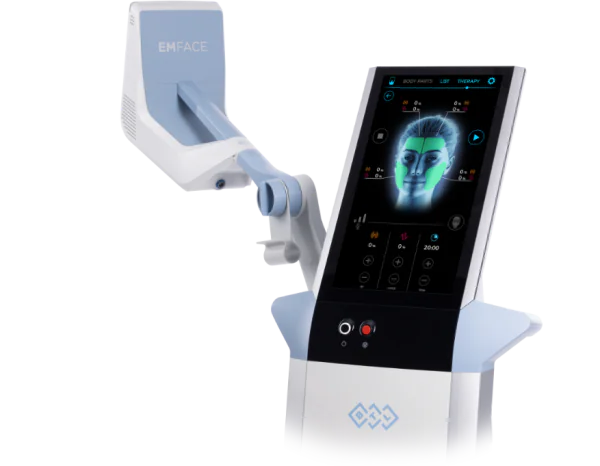 Before treatment, you'll have a consultation with one of our aesthetic specialists. If you're a good candidate for EMFACE, you'll recline on the treatment table, and one of our certified medical assistants will cleanse your face. Next, they will apply the self-adhesive applicators to your brow area and cheeks. You will feel a warming sensation and facial muscle contractions.
The treatment takes about 20 minutes, during which you can read or relax. Afterward, you'll be free to return to your normal daily activities immediately. Your cheeks may be slightly flushed temporarily, but no downtime is needed.
EMFACE FAQ
Is EMFACE painful?
These treatments are not painful. Patients often say it feels like a warm stone massage with light muscle contractions.
How many treatments will I need?
We recommend a series of 4 treatments, each spaced 5 to 10 days apart, for optimal results.
How long does it take to see results?
Many patients notice firming after their first treatment, which improves as collagen forms in the skin and the muscle tone improves. It takes about 12 weeks to achieve final results.
Do I need to repeat these treatments?
A series of 4 treatments once a year is needed to maintain results.
How Do I Find Out More?
To find out about EMFACE and other facial rejuvenation treatments, request a consultation using our online form or call our office at (239) 262-5662.