Kent V. Hasen, MD: Aesthetic Plastic Surgery & Med Spa of Naples
3699 Airport Pulling Road North
Naples, FL 34105
Phone: (239) 262-5662
Monday: 8:00 a.m. – 6:00 p.m.
Tuesday - Thursday: 9:00 a.m. – 5:00 p.m.
Friday: 8:00 a.m. – 4:00 p.m.

CoolSculpting® Elite

Are you ready to discover the next "big thing" in body contouring? CoolSculpting Elite is the latest CoolSculpting technology that makes treatments more comfortable, effective, and efficient. This non-surgical body contouring procedure uses controlled cooling to reduce those stubborn pockets of fat that won't budge with diet and exercise – without surgery, incisions, or downtime. It has been FDA cleared for non-invasive fat layer reduction of areas such as the flanks, double chin, and love handles.
Amanda performs CoolSculpting Elite at our "Center of Excellence" for CoolSculpting in the Naples-Fort Myers area. She is a registered nurse who also works in our OR and is Master's Certified from CoolSculpting University with advanced skills and training in CoolSculpting® Elite. Dr. Hasen's practice is one of the leading CoolSculpting providers in the country.
What Is CoolSculpting Elite?
Each machine has 2 applicators instead of 1 to treat 2 areas simultaneously. With 2 CoolSculpting Elite machines, we can treat 4 areas in a single appointment!
New applicators have been designed to provide a better fit for a variety of treatment areas.
The machines are sleeker and more compact, which helps treatment rooms feel roomier.
#1 CoolSculpting® Elite Provider in Southwest Florida for 2023
Allergan recognizes Dr. Hasen's expertise and experience with CoolSculpting Elite, naming him the top CoolSculpting provider in the region. His practice, Aesthetic Plastic Surgery & Med Spa of Naples, is a CoolSculpting "Center of Excellence," offering men and women an effective way to reduce fat and contour their bodies without surgery.
DualSculpting: Freeze twice the fat in half the time!
With 2 CoolSculpting machines, we can target different areas of your body at the same time. No need for multiple appointments. Ask about our special Transformation Packages to learn how you can lose extra fat and save money.
Choose a CoolSculpting Package Deal to Target Multiple Areas
Transformation Package – Targets the tummy and thighs in 2 applications
Premium Transformation Package – Targets the upper and lower abdomen in 3 applications
CoolSculpting Elite Applicators
The CoolSculpting Elite system includes a collection of newly designed applicators that make treatments more efficient and comfortable for specific areas.
Curve Series
These 4 C-shaped applicators fit curved areas such as under the chin, below the jawline, upper and mid back, love handles (flanks), abdomen, and under the buttocks (banana rolls). They use suction to draw in and hold the area of fat during treatment. The improved shape treats as much as 18% more surface area for improved results and reduced treatment times.
Flat Series
These 2 applicators are designed to treat pinchable fat on straighter areas like the upper arms and inner thighs by suctioning onto the targeted area.
Surface
This applicator does not use suction, treating areas of fat that are difficult to pinch, such as the outer thighs and upper abdomen.
We can use a combination of applicators to address your specific areas of concern.
Improved Double Chin Reduction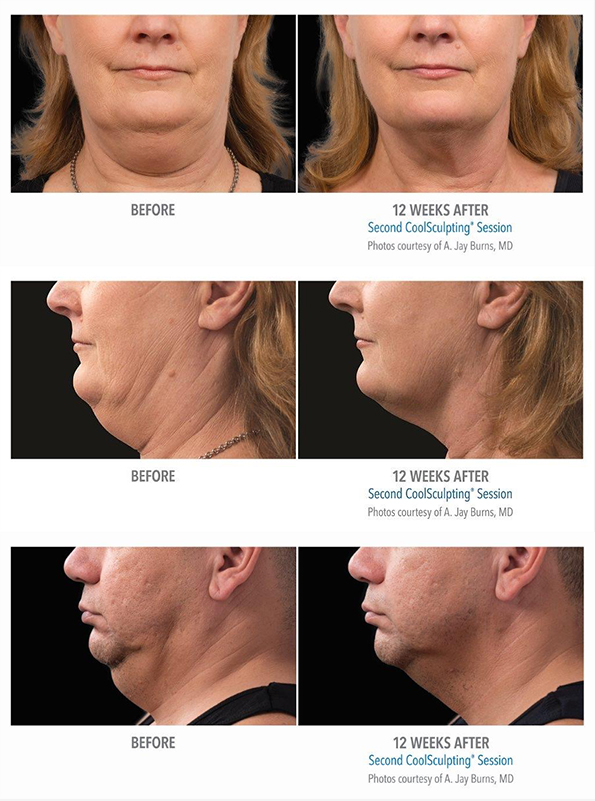 The smallest Curve Series applicator, C80, takes the place of the CoolMini. This new applicator contours the upper neck, in addition to reducing a double chin. A non-surgical alternative to neck liposuction, treatments with the Curve C80/CoolMini are cleared by the FDA to reduce submental fat (fat below the chin). This is truly a non-invasive treatment for double chins — no incisions, no injections — and we are the first practice to offer CoolMini in southwestern Florida.
If you are also bothered by fullness in the lower cheeks (buccal fat pad), Dr. Hasen can combine CoolSculpting of the neck with a surgical procedure called buccal fat removal, which is performed through a small incision inside each cheek.
The CoolMini uses the same CoolSculpting technology employed for body contouring, cooling the fat cells in the neck without damaging the skin or surrounding tissue. Like other CoolSculpting treatments, the CoolMini doesn't require downtime, making it popular with men and women alike.
Who Is a Good CoolSculpting Candidate?
CoolSculpting is not a weight loss procedure. Good candidates are men and women who:
Would like to slim their body contours.
Are already at or near their target weight but have small, localized fatty deposits that will not respond to diet or exercise.
Who would rather avoid surgery.
Get our pricing guide with cost details on 20+ of our most popular procedures
Reasons To Choose Dr. Hasen for CoolSculpting in Florida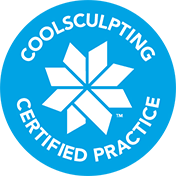 Dr. Hasen's practice is recognized as a "Center of Excellence" for CoolSculpting, and he is one of its most experienced providers. Colleagues visit his practice for advanced training in performing CoolSculpting.
Meet with Dr. Hasen personally during your consultation and get all of your questions answered.
Dr. Hasen was the first in southwest Florida to offer CoolSculpting, and the first to offer even faster treatments with the CoolAdvantage™ applicator.
Dr. Hasen has offered CoolSculpting longer than any other surgeon in the area and is highly trained with the procedure.
Need Help Finding the Right Treatment?
When it comes to medical spa treatments, your choices are plentiful…and possibly overwhelming. Our interactive treatment planner can help. Just select the skin condition you want to address, and you'll see a list of possible treatment options. Having beautiful skin has never been so easy.
Plan Your Treatment
How CoolSculpting Works
There is minimal to no discomfort during the procedure. No anesthesia or pain medication is required.
FDA cleared CoolSculpting uses a process called Cryolipolysis™, controlled cooling of fatty tissue.
After the tissue has been precisely cooled for a certain period of time, fat cells begin to break down.
The damaged fat cells are removed through the body's natural cleansing process.
Over time, gradual fat reduction is accomplished.
CoolSculpting Recovery
Quite simply, there is no recovery time required after treatment.
You can get back to your regular routine soon after the procedure, even if that means engaging in strenuous exercise.
Some mild redness or bruising is possible, but these should clear over a few days.
Occasionally, patients report a temporary numbness in the treated area.
What Is the Price of CoolSculpting Elite in Naples, FL?
The cost of a CoolSculpting treatment ranges from $750 to $3,000, depending on the size of the area being treated. Dr. Hasen will be able to give you a customized quote after your initial consultation.
Sculpt a better butt and more defined abs. Discover the latest in nonsurgical body contouring. See the undeniable results.
Learn More
CoolSculpting Results
Improvement appears gradually and varies between patients, with results typically beginning to be visible after 4 weeks and with optimal results in 2 to 4 months.
The fat layer is typically reduced with a single treatment. Additional treatment sessions can cause an increased reduction in fat. Dr. Hasen or one of our highly trained aesthetic treatment specialists will develop a unique treatment plan specifically for you and will discuss your options for multiple treatment sessions.
Patients usually see smoother, slimmer, firmer body contours.
With healthy diet and regular exercise, patients can maintain these improved contours. A sunless spray tan at our medical spa can put the finishing touch on your new look.
Although most patients are thrilled with their results, if you have larger pockets of fat, you may want to consider liposuction or a tummy tuck. Although these are more invasive procedures, they can achieve more dramatic improvement.
Meet Brandie
Our one-of-a-kind, board-certified physician assistant combines her medical training with extensive aesthetic training to provide nonsurgical treatments ranging from injectables and laser skin resurfacing to CoolSculpting® and Ultherapy®. Our patients love Brandie!
Get to know Brandie
Zelickson B., Egbert B.M., Preciado J., Allison J., Springer K., Manstein D., Cryolipolysis for Noninvasive Fat Cell Destruction: Initial Results from a Pig Model, Dermatologic Surgery: 2009; 35(10):1462-1470. https://www.ncbi.nlm.nih.gov/pubmed/19614940
A Reputation Built on Results
Our Patients Say It Best
You deserve the highest caliber of service, care, and results, and at Kent V. Hasen, MD, we're committed to providing all that and more. But don't take our word for it—see for yourself what our actual patients have to say about their experiences with us.
I had a breast implant exchange with Dr. Hasen a little more than a month ago. He is very talented....
Dr. Hasen and his team are absolutely fabulous. Dr. Hasen did an amazing job with my implants a few...
Dr. Hasen and his team are absolutely fabulous. Dr. Hasen did an amazing job with my implants a few...
Dr. Hasen and his team are absolutely fabulous. Dr. Hasen did an amazing job with my implants a few...