Kent V. Hasen, MD: Aesthetic Plastic Surgery & Med Spa of Naples
3699 Airport Pulling Road North
Naples, FL 34105
Phone: (239) 262-5662
Monday: 8:00 a.m. – 6:00 p.m.
Tuesday - Thursday: 9:00 a.m. – 5:00 p.m.
Friday: 8:00 a.m. – 4:00 p.m.

KYBELLA®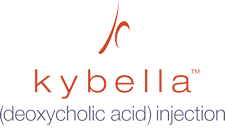 At Aesthetic Plastic Surgery & Med Spa of Naples, patients concerned about a double chin have an innovative solution in KYBELLA. This minimally invasive injectable treatment reduces fat under the chin for a smoother, sleeker profile after just a few quick sessions. Kent V. Hasen, M.D., is among the first physicians in Southwest Florida to offer this FDA-approved treatment, and he has the knowledge and experience to deliver excellent, refined results.
If you are interested in KYBELLA double chin injections and live in the Naples-Fort Myers area, request a consultation or call (239) 262-5662 today.

No surgery.
No downtime.
Learn More
Who Is a Good Candidate?
Fat below the chin is more stubborn than fat in many areas of the body, and it often does not matter how fit or athletic a person is. This is why double chins are common for men and women of all shapes and sizes — and why KYBELLA is such a welcome solution.
You might be a good candidate if:
You have fat below the chin that does not respond to diet and exercise.
You want to reduce this fat without surgery.
You are in good general health.
Dr. Hasen and his physician assistant, Brandie, are pleased to evaluate your concerns during a consultation to ensure you are a good candidate. With their guidance, you may find that laser liposuction is a better match for your needs. If you are bothered by fullness in the lower cheek area (the buccal fat pad), Dr. Hasen can combine KYBELLA injections with a surgical procedure performed through a small incision on the inside of the cheeks called buccal fat removal.
Additionally, if you have loose skin on your neck, you may be a better candidate for a skin tightening treatment such as Renuvion® or Ultherapy®. Dr. Hasen and his team are experienced with a vast range of surgical and non-surgical treatments for this area, and they enjoy working with you to find your ideal approach.
Meet Brandie
Our one-of-a-kind, board-certified physician assistant combines her medical training with extensive aesthetic training to provide nonsurgical treatments ranging from injectables and laser skin resurfacing to CoolSculpting® and Ultherapy®. Our patients love Brandie!
Get to know Brandie
The Procedure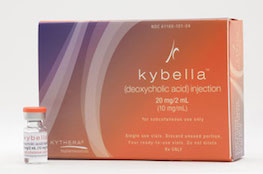 A KYBELLA treatment takes only about a half-hour, much like other injectable treatments. We begin by cleansing your neck and administering a local anesthetic. We then plot out the locations where we want to make injections to optimally target fat, marking your skin to ensure precision. We then perform several injections, spaced about a centimeter apart, to cover the area.
The KYBELLA injections contain a synthetically made chemical called deoxycholic acid. A natural form of this chemical is also present in our digestive systems, and it helps to break down ingested fat. Once we inject the chemical into the fat of your double chin, it damages fat cell walls. Your body then flushes away the damaged fat cells in the ensuing days.
The Recovery
While patient experiences vary, most are completely comfortable during the treatment and can immediately return to their normal activities afterward. You may have some swelling, redness, or soreness following your treatment, but these effects are mild and temporary.
The Results
You may begin to see the results of your treatment just a few days afterward. Most patients get 2 to 4 treatments spaced about a month apart for the best possible results, and up to 6 sessions are possible. With each treatment, more fat melts away, and you are left with a refined, attractive profile. The results last indefinitely, especially if you maintain good lifestyle habits and a stable weight.
A Reputation Built on Results
Our Patients Say It Best
You deserve the highest caliber of service, care, and results, and at Kent V. Hasen, MD, we're committed to providing all that and more. But don't take our word for it—see for yourself what our actual patients have to say about their experiences with us.
I had a breast implant exchange with Dr. Hasen a little more than a month ago. He is very talented....
Dr. Hasen and his team are absolutely fabulous. Dr. Hasen did an amazing job with my implants a few...
Dr. Hasen and his team are absolutely fabulous. Dr. Hasen did an amazing job with my implants a few...
Dr. Hasen and his team are absolutely fabulous. Dr. Hasen did an amazing job with my implants a few...