Kent V. Hasen, MD: Aesthetic Plastic Surgery & Med Spa of Naples
3699 Airport Pulling Road North
Naples, FL 34105
Phone: (239) 262-5662
Monday: 8:00 a.m. – 6:00 p.m.
Tuesday - Thursday: 9:00 a.m. – 5:00 p.m.
Friday: 8:00 a.m. – 4:00 p.m.

Microneedling
Microneedling is great for Fort Myers and Naples, FL, patients who visit our full-service medical spa. This treatment stimulates the skin's natural healing process to increase elasticity, reduce the appearance of scars and wrinkles, minimize pores, and more. A versatile treatment that corrects a variety of skin concerns, microneedling is an attractive option for men and women seeking comprehensive skin rejuvenation with minimal downtime.
We make it easy to fit microneedling into your skincare regimen with weekend appointments. Call (239) 262-5662 to get on the schedule for one of our select Saturday aesthetician appointments at our Naples med spa.
Shop SkinMedica® Online
Purchase your favorite SkinMedica products from the comfort of your home through Brilliant Connections™. Shop Dr. Hasen's online store and choose from a broad selection of medical-grade skincare essentials that will be shipped straight to you.
Shop Now
What is microneedling?
Microneedling uses a small, pen-shaped device with a sterile cartridge at the end. To give our patients the safest, most beautiful results possible, we trust SkinPen®, the only FDA-cleared microneedling device legally available in the United States.
The cartridge contains a number of extremely small, perfectly straight needles, which differs from other devices that use needles with jagged edges or a hooked end. These straight needles treat targeted areas with precision by creating very small perforations in the skin's top layers. Although these perforations are invisible to the naked eye, they stimulate the skin's natural repair process. As part of this process, the affected skin begins to produce an excess of collagen and elastin, 2 proteins that play crucial roles in skin health.
At Aesthetic Plastic Surgery & Med Spa of Naples, microneedling treatments are administered by our licensed medical aesthetician. Our advanced knowledge of facial anatomy and our background in aesthetics make us highly qualified to perform this specialized service.
Need Help Finding the Right Treatment?
When it comes to medical spa treatments, your choices are plentiful…and possibly overwhelming. Our interactive treatment planner can help. Just select the skin condition you want to address, and you'll see a list of possible treatment options. Having beautiful skin has never been so easy.
Plan Your Treatment
What can microneedling do for me?
SkinPen is an incredibly versatile tool for treating various skin conditions. Though it does not create the deep, structural improvements provided by a facelift, microneedling can be used in conjunction with surgery to address many concerns on the surface of the skin. Microneedling is effective for:
Lax, sagging skin
Large pores
Sun damage, including dark spots
Deep wrinkles, such as forehead creases
Fine lines, such as crow's feet
Scars, especially acne scars
Stretch marks

No surgery.
No downtime.
Learn More
What are the advantages of microneedling?
Microneedling is nonsurgical, which means it comes with less risk and no scarring when compared to procedures that require an incision. Because no anesthesia is necessary, the chance of complications is minimized. Surgical risks, such as infection, are also greatly reduced. Unlike other microneedling devices, SkinPen uses sterile needles for each patient. In fact, once a SkinPen needle is used, it is effectively "locked out" and cannot be reused.
Additionally, each SkinPen needle is perfectly straight—not jagged or hooked—which mean it can gently penetrate skin exactly where administered without creating undue trauma on surrounding tissues.
Microneedling uses the body's natural reparative mechanisms to improve the look of skin without the aggressive use of chemicals or other substances. Not only does microneedling activate cell regeneration, it makes the skin more receptive to the active ingredients in topical products, boosting their effectiveness.
Featured Cases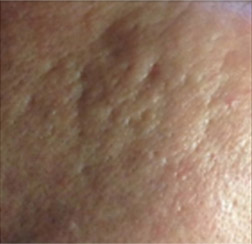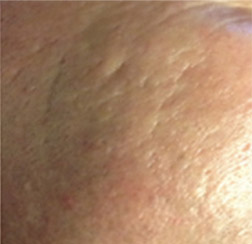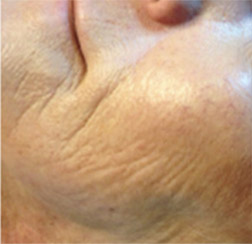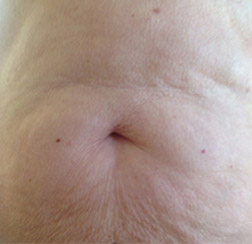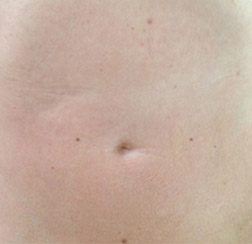 The before and after pictures above are courtesy of SkinPen. Your results may vary.
What is RF microneedling?
Our advanced Morpheus8 treatments, performed with the same InMode system used for BodyTite and FaceTite skin tightening treatments, take microneedling to the next level with radiofrequency (RF) energy. Instead of being shaped like a pen, the Morpheus8 handpiece looks more like a gun. Its square tip has a matrix of tiny pins that emit RF energy to renew deeper layers of the skin than traditional microneedling. The result is the firming of the skin and underlying fat—and stimulation of new collagen.
When combined with FaceTite, Morpheus8 treatments are an excellent alternative to facelift, neck lift or other surgical procedures. Morpheus8 can also be combined with BodyTite for skin tightening on larger areas like the abdomen.
Who is a good candidate for microneedling?
During your consultation, our aesthetician evaluates your skin and makes effective treatment recommendations based on your needs. Microneedling is suitable for many people because it treats a large variety of concerns. If you're bothered by loose skin, enlarged pores, scars, or other irregularities, you may be a good candidate for microneedling. In a clinical study, 90% of patients treated with SkinPen said they would recommend the treatment to friends or family.
Those with more profound wrinkling or laxity might benefit from the ellacor® System to improve the skin's structure, tightening and smoothing sagging skin.
Meet Brandie
Our one-of-a-kind, board-certified physician assistant combines her medical training with extensive aesthetic training to provide nonsurgical treatments ranging from injectables and laser skin resurfacing to CoolSculpting® and Ultherapy®. Our patients love Brandie!
Get to know Brandie
What happens after a microneedling treatment?
Unlike surgery, microneedling does not require an at-home recovery period. Most patients report feeling as if they have a sunburn, and skin warmth and tightness may persist for a couple of hours. These effects typically diminish within 24 hours. During this time, you should keep your hands and face clean and avoid using makeup to allow the micro-perforations to properly heal.
The results of microneedling typically take between 6 and 8 weeks to become visible. Some patients choose to undergo more than 1 procedure, while others achieve their desired results after a single session. Our aesthetician works with patients to help them create realistic timelines to achieve their skin care goals.
A Reputation Built on Results
Our Patients Say It Best
You deserve the highest caliber of service, care, and results, and at Kent V. Hasen, MD, we're committed to providing all that and more. But don't take our word for it—see for yourself what our actual patients have to say about their experiences with us.
I was so nervous about finding a new place to continue some treatments. This practice made me feel so...
I had an amazing experience with Brandie, Courtney, and Maddy. Would definitely recommend their services.
Outstanding Results for Breast Augmentation and Botox 2 years ago I had a pretty large breast augmentation...
He did a great job this week addressing the problem I was having with lines above the upper lip. Looks...