Kent V. Hasen, MD: Aesthetic Plastic Surgery & Med Spa of Naples
3699 Airport Pulling Road North
Naples, FL 34105
Phone: (239) 262-5662
Monday: 8:00 a.m. – 6:00 p.m.
Tuesday - Thursday: 9:00 a.m. – 5:00 p.m.
Friday: 8:00 a.m. – 4:00 p.m.

Our Office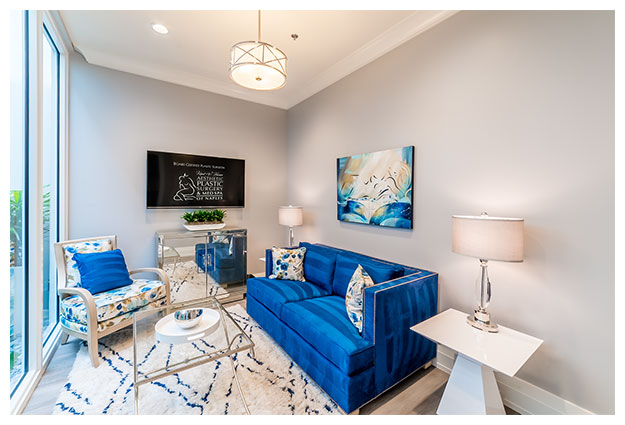 Dr. Hasen and our warm, knowledgeable staff are proud of our beautiful, thoughtfully appointed facilities. At our Naples cosmetic plastic surgery office, patients are treated to an inviting, peaceful sanctuary where they can plan their desired surgeries and undergo non-surgical aesthetic procedures in comfort and confidence.
For more information on any of our cosmetic plastic surgery services in the Naples-Fort Myers area, request a consultation online, or call (239) 262-5662 today.
Along with our newly expanded name, Aesthetic Plastic Surgery & Med Spa of Naples (formerly Aesthetic Plastic Surgery of Naples) is pleased to announce that we have officially moved into our freshly constructed, custom-designed plastic surgery and medical spa facility located at 3699 Airport Pulling Road North in Naples, Florida. With 7,500 square feet of space, our facility comfortably comprises multiple treatment rooms, a 2-room surgical suite, and overnight accommodations in which patients may recover in comfort after surgery. A full-service medical spa staffed by our team of aestheticians, cosmeticians, laser specialists, and masseuses is also conveniently located on site.
Our Surgery Center
We'll admit it: We love our surgical center as much as our patients do. The 7,600-square-foot facility, opened in 2016, reflects the blend of aesthetics, technology, and attention to detail at the heart of Dr. Hasen's world-class plastic surgery practice.
Tour the Facility