Anyone thinking about getting rid of pockets of stubborn fat is probably aware that nonsurgical fat reduction treatments can get some pretty impressive results. Procedures such as CoolSculpting®, for example, produce very nice outcomes for our patients.
But for patients who either want more dramatic results or want to remove fat from multiple areas, the best choice is still liposuction, just as it always has been.
At my Naples-Fort Myers practice, patients who initially come in for a consultation thinking about nonsurgical fat reduction may ultimately choose liposuction after better understanding the benefits. Because it's surgical, liposuction does involve some recovery time that isn't part of CoolSculpting — but it's a small burden to bear for a much more dramatic result.
Many patients consider taking some time to recover a worthwhile tradeoff when compared to the liposuction's benefits:
More precision: Surgeons performing liposuction control precisely how much fat is removed during the procedure. Nonsurgical fat reduction procedures target a general area, but the amount of fat cells affected during treatment varies from patient to patient.
Immediate results: There is some swelling associated with liposuction that may initially obscure your results, but essentially, your new contours are visible immediately after a single procedure. In most cases, CoolSculpting patients require multiple treatment sessions to get the desired results, which emerge gradually over the course of several months.
Multiple treatment areas: The fact that you can accomplish your cosmetic goals during a single surgery becomes even more attractive if you want to remove fat from more than one area of the body. Liposuction can treat multiple areas, such as the abdomen and thighs, in one procedure. We do offer DualSculpting® — i.e., using 2 CoolSculpting applicators at the same time to treat symmetrical areas, such as both the left and right flanks or thighs.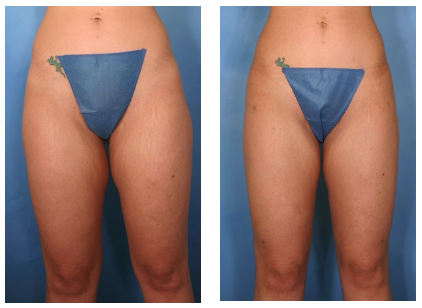 This 27-year-old Cape Coral woman had liposuction performed on the thighs, knees, calves, and lower abdomen in a single procedure that removed 3,350 cc (7.5 lbs) of fatty tissue.
Updated February 16, 2021.