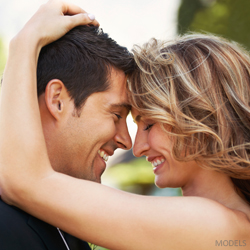 Studies show that the vast majority of women who get breast implants are happy with their results. That's something I've seen personally with my breast augmentation patients in Naples. But another recent study posed a different question. Do women with breast implants have better sex lives?
The answer, according to the results of the study, is yes. The research, presented at the annual meeting of the American Society of Plastic Surgeons®, asked women before and after getting breast augmentation surgery about their level of sexual arousal and satisfaction. Both were significantly increased after getting implants, according to the study. The findings are in line with a 2012 RealSelf.com survey of women who have breast implants.
Of course, the question is why? Women who want breast augmentation, for the most part, aren't specifically trying to improve their sex lives. Most of the patients I see tell me they want breast implants because they feel self-conscious about their bodies and they are doing it for themselves.
It makes sense that a woman who feels confident in her body will feel more sexual and experience greater levels of arousal and satisfaction. Also, if these patients' partners are happy with the results of the augmentation, then that is likely another reason for increased sexual satisfaction.
Bottom line: A woman's femininity and sexuality is linked to her satisfaction with her breasts and breast augmentation.