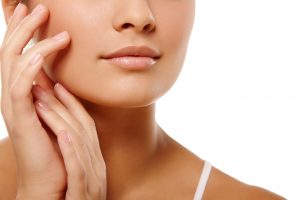 We're all familiar with BOTOX® being used to smooth lines of the upper face and filler to plump facial wrinkles and augment lips. Yet many patients at our Naples practice are using these products in surprising areas – and with beautiful results!
As with any injection, it is important to see an experienced provider, particularly when products are being placed in "non-traditional" areas. But here are a few unique ways BOTOX and other fillers can be used to enhance your body.
Ear Lobes
As we age, our ear lobes start to sag from loss of volume and elasticity. Earrings droop and don't stay in place because there is no support in the ear lobe. A small amount of filler can rejuvenate aging lobes.
This practically painless procedure allows patients to wear heavier earrings without drooping or sagging and smaller studs stay in place. The filler can also soften the appearance of the fine lines that form around the lobe, allowing diamonds to be the center of attention when someone looks at the ears.
Hands
How many times a day do we look at our hands? Whether typing, driving, or eating, we see our hands more than we see our faces, but this part of our body is often neglected.
Restylane Lyft® can be used to rejuvenate the hands, restoring volume loss and softening the appearance of veins. This hyaluronic acid gel is the only HA filler on the market FDA cleared for hand rejuvenation. Patients immediately notice more youthful hands, with results lasting 6 to 9 months.
Jaw Muscle
Many patients have strong, thick masseter muscles of the jaw. BOTOX® can be injected in this muscle to decrease jaw clenching and slim and contour the face. This no downtime injection can provide relief for patients who constantly clench and grind their teeth and hold tension in their jaw.
Chin
The chin is important for giving shape and contour to the face and neck. Voluma® can be injected in the chin to improve the profile and sharpen the jawline.
In patients with a weak chin or loss of definition of the submental area, filler can provide balance. Chin filler often lasts up to 18 months, and the procedure has minimal downtime.
Curious about what fillers could do for you? Contact our practice online or by calling (239) 262-5662. Together, we can create your perfect treatment plan.